Digging for Life, October 20th 2021, Volkel Air Base
A new generation of nuclear bombs is threatening to arrive in the Netherlands, Belgium, Germany and Italy from 2022 onwards.
The Dutch F-16 and F-35 bombers emit tons of CO2 per flying hour and if they ever drop their bombs, it will be even more disastrous for creation.
Every autumn, the Netherlands participates in NATO's Steadfast Noon, a major exercise involving the nuclear bombs stored at Volkel Air Base and other bases in Europe and the US.
We are organizing a digging-for-life action during that exercise on Wednesday 20 October 'at Noon', at 12 o'clock, at the head of the runway to
– for the CO2 emissions of the armed forces to be counted in the climate targets and
– to protest the plans for the deployment of a generation of new nuclear B61-12 thermonuclear bombs.
There will be music and a picnic. If you want, you can bring a (preferably pink) shovel to dig a little tunnel with the intention of going under the fence and sitting on the runway to prevent the practice of nuclear bombs.
Anyone who wants to can join in singing, picnicking and/or shovelling. You can decide how far you want to go. With or without arrest, everyone's presence is important!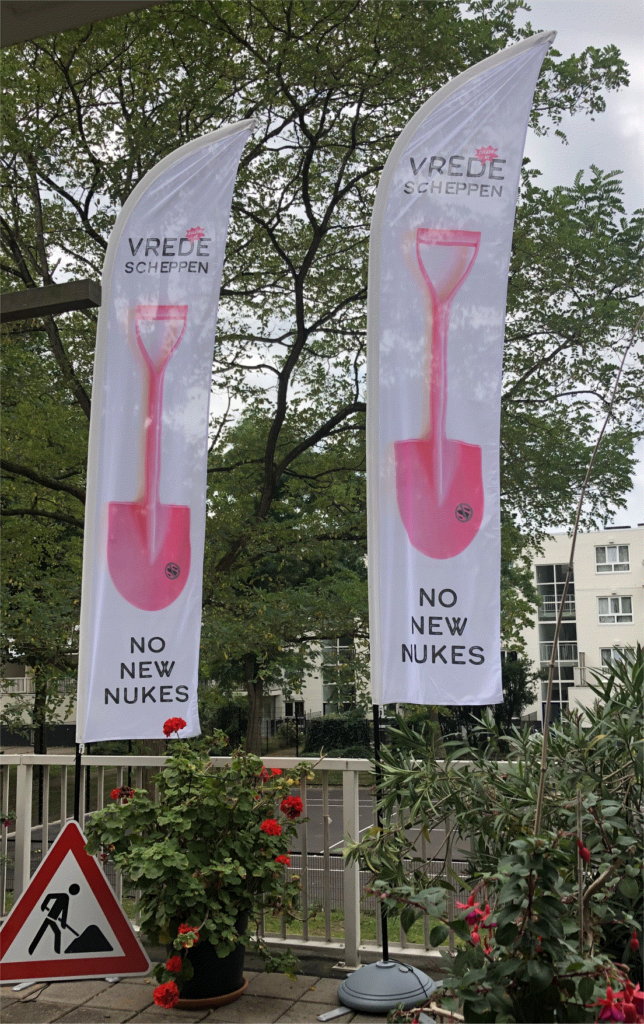 We ask everyone to register well in advance so that we can get to know each other on Monday evening, 4 October at 19:30 by means of video calls and discuss the course of this action together.
Registration is also important to see if we can arrange for the Theaterstraat bus from Amsterdam to go via Oss station, or if we can arrange transport in a different way.
You can register using this form: https://forms.gle/DzH8Ju4RCtJjTFne7
We ask all participants to be calm and friendly when dealing with the police, military police and soldiers. We hope it will be a hopeful and pleasant day. Hope to see you in Volkel!
No new nukes – Vrede scheppen!